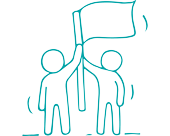 Co-op Principle #6: COOPERATION AMONG COOPERATIVES
Co-ops believe working together is the best strategy to empower their members and build a stronger co-op economy.
As a follow up to our most recent Think Outside the Boss Series, we are hosting Cooperative Mastermind Sessions on alternating months to provide cooperative minded people a place to connect with industry experts.
Whether you are just starting out, or are looking to expand your cooperative, these mastermind sessions are designed to connect you with already existing networks and expertise. 
Attend our Cooperative Mastermind sessions to learn from cooperative development professionals and worker owners in facilitated, break-out Q&A sessions.
Attending Speakers
Laura Smoot - Rye Financial and US Federation of Worker Cooperatives
Laura Smoot is the Operations Manager for the US Federation of Worker Cooperatives, and believes that worker cooperatives are one of the most exciting tools we have for building a more just, more sustainable and more peaceful world. She has been working with cooperatives in Philadelphia, the Bay Area, and nationally in various capacities since 2012: cook, bookkeeper, education & outreach coordinator, meeting facilitator--and was an Administrative Coordinator of the Network of Bay Area Worker Cooperatives (NoBAWC) from 2015-2016. 
Daniella Preisler, Home Green Home SF
Daniela Preisler is from Chile and arrived in the United States in 2012. She is the mom of a 14-year old teenage daughter, whom she considers to the engine of her life. For the last three years she has been a part of the ecofriendly housecleaning cooperative, Home Green Home in San Francisco, where she is the general manager. She considers this experience as a big responsibility to herself, her Socias, the co-op community and Latinas! Another objective and value for Daniella is personal growth and development, and that of her fellow worker-owners. Most recently, she has completed half of her yearlong Cooperative Developer Fellowship with Prospera, received hands on professional development experience and is getting ready to be a Certified Community Coach and a co-op developer!

Ricardo Nunez, Sustainable Economies Law Center
Ricardo S. Nuñez is currently the Director of Economic Democracy at the Sustainable Economies Law Center where he co-coordinates educational programs, legal services, and policy advocacy to create pathways for grassroots economic development. He endeavors to co-create policies, structures, and institutions that empower communities to liberate themselves from systems of economic and social oppression. He is on the board of the US Federation of Worker Cooperatives and the California Center for Cooperative Development. He is also becoming a lawyer without going to law school through California's Law Office Study Program (likelincoln.org). Previously, Ricardo was a Rural Education Development specialist with the Peace Corps in Kasama, Zambia. Ricardo will be forever indebted to the strong, proud, and gracious women who introduced him to cooperative economics in the villages of Zambia. 
Greg Jackson, Sustainable Economies Law Center & East Bay Permanent Real Estate Cooperative
Greg is an Equal Justice Works Fellow within the Center's Housing and Cooperatives programs. Greg assists the East Bay Permanent Real Estate Cooperative as Partnership Director. His fellowship work is focused on educating Black residents in East Oakland through a book club and workshop series, laying the groundwork for sovereign grassroots economic development rooted in community ownership, resource sharing, and collective decision making. As a new attorney, Greg's focus areas include contracts, securities, & real estate.
NO one turned away for lack of funds
---

We would like to thank Village-Connect for co-hosting this workshop! We are excited to partner with Village connect to build the capacity of people to become more self-aware and self-directed, resulting in sustainable, positive transformation. Village connect has been in existence for over 20 years, instilling core values of communication, respect, love, and trust.
REPAIRED NATIONS creates redress for historic trends of colonization and oppression through cooperative training and development for collective ownership. Initially, REPAIRED NATIONS focuses on building wealth in Black communities by giving youth the tools needed to remain rooted: access to land and access to capital. Bookclubs, Workshops, and Trainings will educate and inspire communities to engage in cooperative effort, while giving grounded, practical skills for collective ownership.

Please help us spread the word! Co-presented with the Repaired Nations and Village-Connect!
WHEN
October 29, 2019 at 5:30pm - 7:30pm PDT
CONTACT
Gregory Jackson · · 510-863-1016
16 RSVPS








Who's RSVPing

Ana Jones

Mitchell Drummond

Audrey Bell-Kearney

Lisa Riley

Jordan Hammond

Lucienne Cross

Sarah Mitts

Lauren Robinson
---